The Ghost Cruiser is the replacement for the Stealth Cruiser type C. It is unlocked by getting to sector 8 with the Auto Cruiser with AE enabled.
Layout A
"This broken and barely functional kestrel cruiser has been repurposed by the ghost race as a warship. Use it wisely and pay attention to your hull."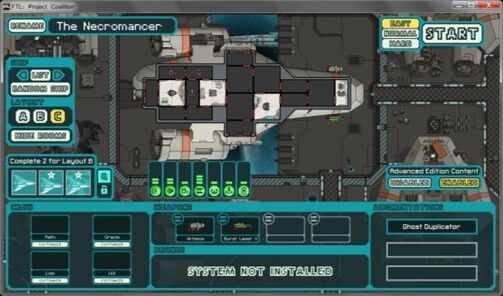 Default name: The Necromancer
Starting Crew: 4 Ghost
Starting Reactor: 8
Starting Systems:

Piloting (1)
Shields (2)
Teleporter (1)
Oxygen (1)
Engines (2)
Weapons (3)
Battery (1)

Starting Weapons:

Broken Artemis Missiles
Broken Burst Laser MK 2

Starting Augmentations:
Starting Resources:

16 Fuel
8 Missiles
2 Drone parts

Slots: 4 Weapon, 2 Drone (requires system)
Unlock
Get to Sector 8 with AE enabled using the Auto Cruiser
Trivia
A Necromancer is a mythical person who can bring the dead back to life.
Ghosts only have 50 health, making them less efficient at boarding. Even worse, this ship has no medical facilities. You must rely on the ghost duplicator to keep your crew alive.
Community content is available under
CC-BY-SA
unless otherwise noted.